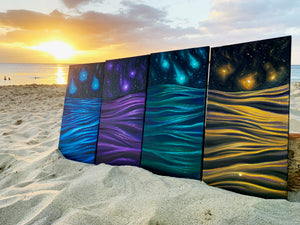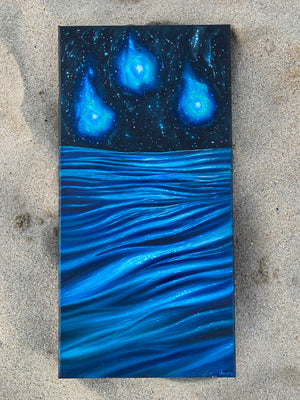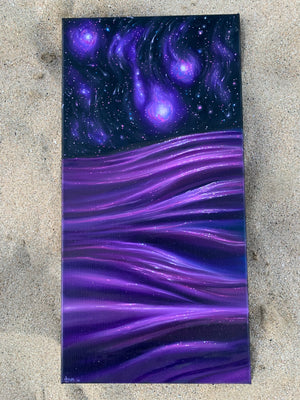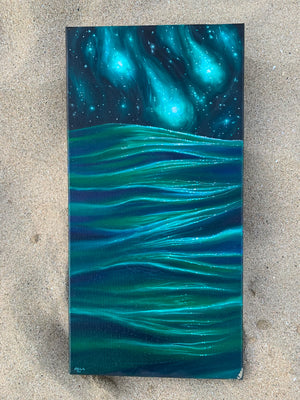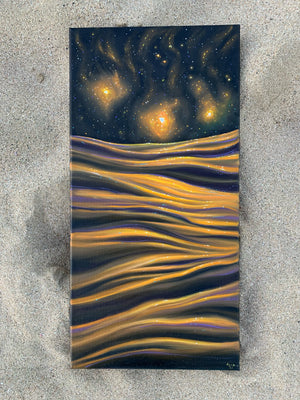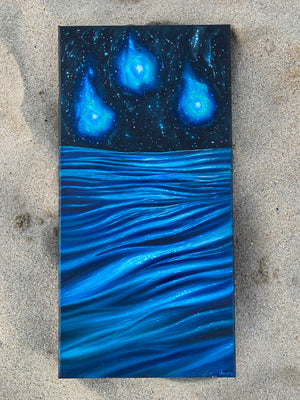 Three Entities Series
One of a kind, original paintings by DELA.
Buy 3 Get 1 Free (or $333 each)
The 3 Lights on top or 3 Entities part came from a DMT experience I had where I got to interact with 3 male entities in a glass cathedral.  They were made of porcelain and had green lights all over them.  One of them was pulling a lasso made of gold out of my belly button.  They took me on an electric staircase that had a bright white light on top, then I snapped back to Earth….Yep, this too is being planned as a painting one day. :)
I ask my good friend Alland Perez Cruz to write some words for this series:

The Attempt of the Moon and the Ocean to save me:
I thought time was not my friend that night as I bobbed in the water under the moonlight.   Like a message flung from a troubled ship, I was the remainder of an event.  The three entities had come to visit me.  What I thought was to be my viscous grave, became my shimmering savior.  In the endless minutes, I reveled, at the attempt of the moon and ocean to save me.  The sound waves of whales lapped at my subconscious and I was shown the message of the elements.  The once terrifying ocean that had swept me up to abandon let my eyes capture endless variations of color and matter.  I could see the eyes of sleepy whales cradle me in their lids and float me up into the moonlight.
Size: 12"x24" 
Medium: oil on canvas 
Stretched canvas with hanging wire included. 
$333 each